18 Nov

Mrs. Fancy Pants

Did I make the score of the century? After totaling the math, I realize I may have, even when it was a bit of an impulse buy!

Last month, I was scrolling on Poshmark one night. I stumbled upon a pair of Pikeur Ciara breeches. To me, Pikeur wasn't on my radar during my h/j time. However, Pikeur is king in the dressage world, so I quickly regarded it as brand whose quality matched its high price tag. Normally, they retail at $300 USD new in the US. In Europe, where Pikeur is based, they are priced around the equivalent of $200 USD.

Needless to say, I've never owned a pair, because they are obscenely pricey. The cost per wear breakdown would take a significant amount of time. For reference, the average cost per wear in America is $4.06. The Pretty Planeteer does an excellent breakdown of this concept if you'd like to learn more. Everyone's ideal CPW will differ. I try to have a maximum yearly CPW of $1 for my pieces.
New Pikeur Ciara Breeches Cost Per Wear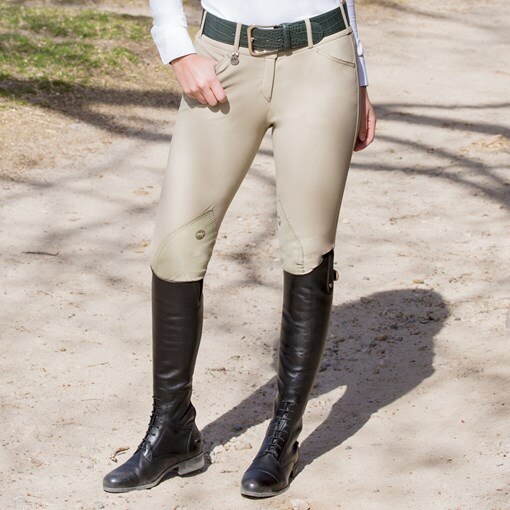 $300/52 wears (once weekly) = $5.77 per wear
$300/104 wears (twice weekly) = $2.88 per wear
$300/312 wears (5 times weekly) = $0.96 per wear
To get these breeches under $1, they would need to be worn practically every time you ride for a year. Could you do this? Perhaps! However, with any garment being used and cleaned this often, you run the risk of wearing out the garment incredibly fast. I personally do not want to conduct an experiment this laborious, but I would be skeptical of any garment lasting this long, even at Pikeur's level of quality.
Poshmark Pikeur Ciara Breeches Cost Per Wear
I got these breeches for $40 on Poshmark! As you can see, there aren't any gaping holes or terrible stains. While these are normally not enough pictures for me to judge an item, I thought it was worth the risk given the brand's quality. When I received them, I was overjoyed to see no loose stitching, buttons intact and only a reasonable amount of staining on the knee patches. In terms of secondhand quality, these were excellent. Let's compare the theoretical and actual CPW for these.
$40/52 wears (once weekly) = $0.77 per wear
$40/104 wears (twice weekly) = $0.38 per wear
$40/312 wears (5 times weekly) = $0.12 per wear
Right off the bat, I'm already under $1 CPW! To say I'm excited is an understatement. When I get such a high quality garment for this low of a price, I love them all the more for it. I also dodge the guilt that comes with a huge purchase price. That guilt affects a lot of us and oftentimes makes us too uncomfortable to even use our purchases! It's so counterintuitive!
Mastermind Breeches
Unlike Pikeur, I had never heard of Mastermind. The same seller on Poshmark had a few other breeches listed. Seeing a tan, full seat pair available at an even lower price of $30 piqued my interest. On Poshmark, a seller will normally list the original retail price of the item, but this is easily inflated. A quick search later, I realized why I'd never heard of this brand.
Mastermind almost exclusively goes after the cream of the sport as their target audience, meaning top tier professionals or luxe fashionistas. Their social media is decorated with FEI riders and other pros around the world. Accessibility is not one of their claims of distinction, but innovative technology that can keep up with a pro is. While this may be a less remarkable benefit compared to their own claims, I spilled a bit of water the first time I donned them. The droplets beaded and rolled off like rain on a freshly waxed car.
I was amazed. Waterbending breeches.
Now, I don't know the style name of the pair I snagged, but I assume they're older, since Mastermind's current styles use zipped back pockets, whereas mine have a hidden zipper covered by a traditional pocket flap. Thus, despite my best searching, I cannot find the true retail price of them new. So, I'll have to go off the Poshmark seller's original price. She listed them as originally $200 USD, which seems likely, given that their current breeches are going between $200-$400.
I know. $400 for any piece of clothing makes me nauseous.
New Mastermind Breeches Cost Per Wear
$200/52 wears (once weekly) = $3.85 per wear
$200/104 wears (twice weekly) = $1.92 per wear
$200/208wears (4 times weekly) = $0.96 per wear
Unlike the Pikeur breeches, we would only need to ride in them four times a week for a year to get under $1 CPW. That's still quite a bit of wear, though. Quality-wise, the technical fabric seems to rival, if not beat Pikeur's more traditional fabric, so if someone was going to run this experiment, my money would be on Mastermind to beat Pikeur in terms of longevity.
Poshmark Mastermind Breeches Cost Per Wear
These pictures were definitely even worse than the Pikeur ones, but I was still intrigued. The significant staining was obvious, but I didn't particularly care. Where I am now, these would just be for flatting, so I won't wear them as often as the Pikeur, since I expect future lessons to center more around jumping. If St. Trainer gives me a heads up on a flat-devoted lesson, I will absolutely grab these, since they are a joy to ride in.
When I got them, I could tell they had been loved well. There's a group of rhinestones beneath the Mastermind logo, three of which are missing. Also, one of the back buttons was hanging on for dear life, but nothing that couldn't be reinforced in a few minutes. Mending your clothes is another way you can grow more attached to your garments by imbuing them with a longer life.
$30/12 wears (once monthly) = $2.50 per wear
$30/24 (twice monthly) = $1.25 per wear
$30/36 (thrice monthly) = $0.83 per wear
While wearing them once a month would put them above my goal $1 CPW, I'm pleased with this purchase. The level of quality I got at this low of a price point is fantastic. I can see these being durable for years and not needing a replacement any time soon. I hope to ride both breeches until they fall apart in the saddle many years down the road.
I think I'll be hard pressed to beat these secondhand scores. Buying both new would have cost over $500, which I don't think I could justify on principle alone. With tax and shipping, the total came to $67.60, an 86% reduction. I kept two pairs of clothing out of a landfill and fulfilled a need my closet couldn't fulfill. To date, I can confidently say this is my best secondhand purchase!